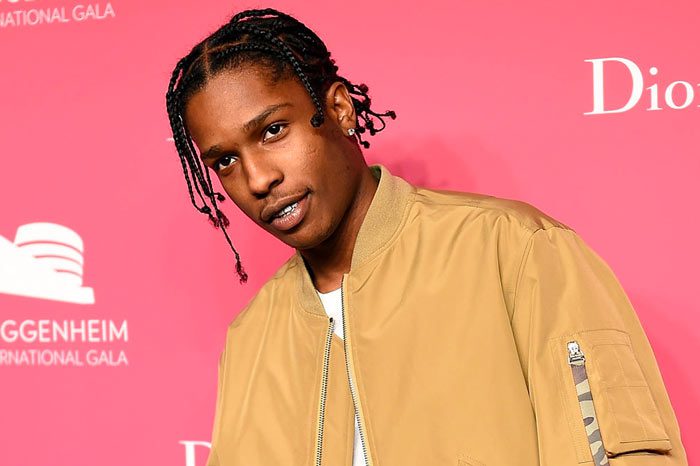 A$AP Rocky's 2019 stint in a Swedish prison made international headlines. Now the Harlem rapper is sharing his story in a new documentary Stockholm Syndrome, which will premiere at the Tribeca Film Festival as part of its Juneteenth programming on Sunday, June 13, at 8 p.m.
Directed by The Architects, the 105-minute film covers Rocky's music and his experience with the Swedish judicial system through archival footage, interviews, animation, and live concert footage, with appearances from Kim Kardashian, Naomi Campbell, Tyler, the Creator, Michèle Lamy, and A$AP Ferg.
According to a press release, "Stockholm Syndrome chronicles the meteoric rise of this contemporary trendsetter, capturing the exuberance of youth and urgency of hip-hop in equal parts, before taking a detour into darkness."
Rocky spent over a month in a Swedish detention center following a street brawl in Stockholm in June 2019. The incident caught the attention of Kanye West and former President Donald Trump, who negotiated for his release. He was eventually found guilty by a Swedish court, but did not have to serve additional jail time.
In a recent interview with GQ, Rocky said the support he received "made me happy while being in there, because when you in jail, you feel like nobody cares."
He also remained productive and hopeful despite being confined to a cell for 23 and a half hours a day. "I never thought that things that I imagined while I was in jail would come true," he said. "And everything that I envisioned in prison came to fruition. 'Cause I guess I manifested it. And I prayed! I really wanted to bless that situation and move on from it in a positive way. I was praying to stay strong, and God got me through shit like it was nothing! That shit was nothing."
Rihanna's boyfriend is now readying his new album, tentatively titled All Smiles, which is about 90 percent complete. "It's all about the evolution," he told GQ of his new music. "I just want to make some good music, that's all. I want to feel great about doing it, and I want people to feel great about hearing it."
Your email address will not be published. Required fields are marked *
COMMENT
EMAIL *
WEBSITE
SEARCH Hiphopraisedmetheblog.com
GET FEATURED
ABOUT
Hip Hop Raised Me The Blog is an online platform for Hip-Hop and R&B enthusiasts world-wide! We're here to serve as your International source for Hip-Hop related News, Lifestyle trends, Cover Art and Events listings. Established, in the heart of NYC, Raptology and it's founders remain committed to honoring Hip-Hops finest, while also pledging support to innovative upcoming artists. Join us in our quest to keep Hip-Hop culture alive and thriving!
READY TO GET NOTICED?
We welcome audio and video submissions by aspiring artists!
Submissions email us Hiphopraisedmeblog@gmail.com