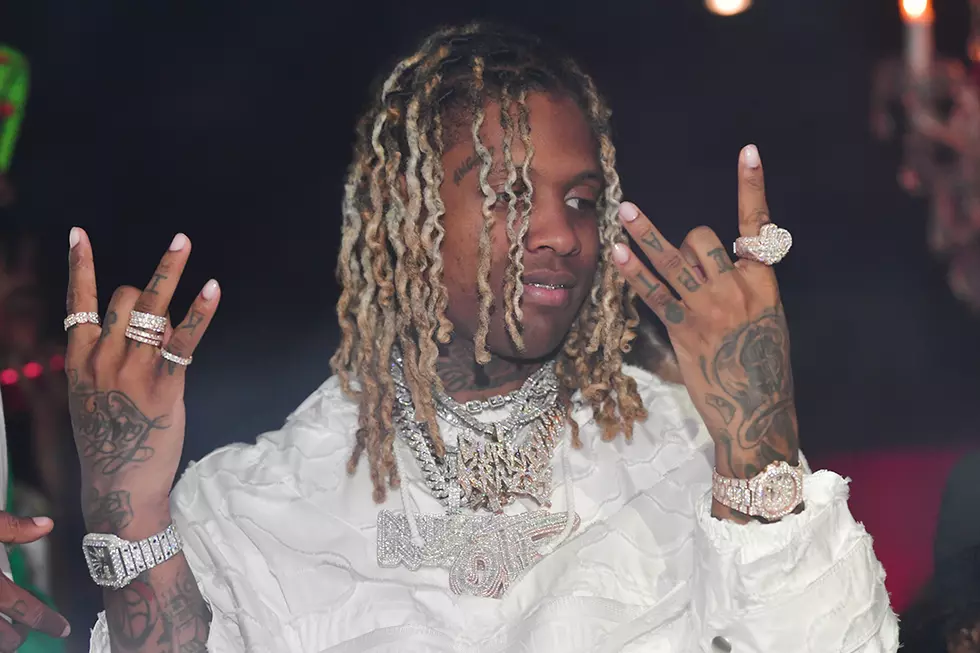 LIL DURK APPARENT TARGET OF HOME INVASION, FIRED GUN AT INTRUDER
Lil Durk and his girlfriend, India Cox, were reportedly victims of a home invasion and an aggravated assault last weekend.
According to a report from TMZ on Thursday (July 15), Durkio and India exchanged gunfire with intruders who somehow broke into their home in the Chateau Elan section of Braselton, Ga. on Sun., July 11. Based on information the outlet obtained from the Georgia Bureau of Investigation, multiple unidentified individuals entered the property of the rapper and his partner around 5 a.m., and a shootout occurred. The home is about an hour away from Atlanta.null
Durk and India reportedly fired their weapons. Neither of them were hurt during the incident.
Details surrounding how many people allegedly broke into the home are unclear, but law officials are seeking the public's help in their investigation into the home invasion.
Documents obtained by XXL this afternoon confirm that Durk and India were both victims of the incident, which is an ongoing investigation at this time.
Despite the unfortunate news of Lil Durk and India's recent home intrusion, the rapper scored his very first No. 1 album with collaborator Lil Baby just one month ago. Durk and Baby delivered their album, The Voice of the Heroes, on June 4, after months of teasing. The joint effort took the top spot on the Billboard 200 chart on June 13, moving 150,000 album equivalent units. From that number, 4,000 were pure sales.
Nonetheless, the offering was the second biggest rap debut of 2021, at the time after J. Cole's The Off-Season. However, weeks later, on July 4, Tyler, The Creator went No. 1 on Billboard and took the crown of the second highest number of sales for a rap album with Call Me If You Get Lost, which sold 169,000 units its first week.
Sending positive thoughts to Lil Durk and India.
XXL has reached out to the Braselton Police Department, the Georgia Bureau of Investigation, Lil Durk's attorney and a rep for the rapper for a comment.
SEE 20 WAYS IN WHICH RAPPERS SCHOOLED US ABOUT LIFE
Travis Scott, Kendrick Lamar, Juice Wrld, Pop Smoke and more have taught us quite a few things along the way.
Rage Is Key at Any Time
When Travis Scott performs at his concerts, he goes all out. La Flame's live shows are like no other and his fans, who are affectionately called Ragers, have always gone to great lengths to rage right along with him—remember the fan who injured his legs after diving from a balcony at a New York show in 2017?
The rapper's supporters also watch his every move to stay connected to him. Even the response to Travis buying gum at a store during his CACTI launch in March shows how his ragers can't get enough of him. From his Astroworld Tour to just showing up for a pop-up event, Travis Scott has shown the world that rage is key at any time.
Command the Masses in Your Sleep
Kendrick Lamar's deft, nimble rhymes about systemic racism, including police brutality and social injustice, have led the rapper to be a pillar in the hip-hop community when others look for artists that speak for the people. But it's been a while since fans have heard some lyrics from him. He's likely busy crafting his fifth studio album.
Nevertheless, despite him not releasing new music, the Pulitzer Prize-winning artist has proved to be a cultural force in hip-hop even in his sleep. Case in point: His 2015 song "Alright" became a worldwide anthem during protests in response to George Floyd's death by the hands of Minneapolis police in 2020. Commanding the masses in your sleep can be applied to anything. Find your own unique way to make an impact.
Turn the Negative to Positive
The late Juice Wrld's music often deals with pain and heartbreak. But the Chicago rapper also turned his pain into something positive. His 999 mantra is actually a flip of the 666 symbol representing the Devil. In his music, Juice made it a point to school his fans that through the darkness there is light and through the pain, there can be happiness on the other side. Turn the negative to positive.
Create a Universal Movement
During his short career, Pop Smoke helped drill music go mainstream with his Meet the Woo volumes of mixtapes and his posthumous album, Shoot for the Stars Aim for the Moon. Unfortunately, due to his tragic passing last year, the Brooklyn rhymer was unable to witness how he became larger than life through his music and videos. Songs like "Welcome to the Party," "Dior," "The Woo" featuring 50 Cent and Roddy Ricch and "Got It on Me" are just some of the songs that have seen success around the world. A movement is universal when it resonates properly, which is what the late Pop Smoke did with his Woo movement, both during his career and after. Fans stay repping for the Woo.
Build a Loyal Following
Nicki Minaj has built a career off dominating hip-hop and beyond, breaking records set before her and setting a new foundation for many rising women in rap. "Listen, I'm da baddest in da school, da baddest in the game/Excuse me honey, but nobody's in my lane," she raps on her 2009 track "Itty Bitty Piggy." With 10 Grammy Award nominations, two Billboard Hot 100 No. 1 songs and four albums in her catalog, the accomplishments are to be respected. How did she get there? With hard work and the help of her fans, a.k.a. her Barbz, who are extremely loyal to their Queen.
This is a dedicated fan base that comes out in numbers and most celebrities would want in their corner, but they can also be problematic at times in the way they support the artist. The Barbz are so protective of Nicki that they attack other fan bases. Her supporters have showed everyone how fandoms will ride for an artist like no other, which is how she built a loyal league of followers without even having to meet them in the flesh. Other rappers have done this, but there's no stan army quite like the Barbz. It's clear that Nicki has successfully achieved many milestones in her career on her own, and the Barbz have been there every step of the way.
Leave a Lasting Impression
Some artists have a hard time maintaining their legacy in life and after death unfortunately, but that has never been the case for The Notorious B.I.G.. The late rapper's music and life is still revered by his fans. Just look at the new Netflix documentary, Biggie: I Got A Story To Tell, created in his honor this year. Biggie's lyrical and musical impact in hip-hop continues to influence future generations of rappers and fans for years to come. The esteemed MC has taught us all that leaving a lasting impression is important.
Become Your Own Role Model
Although J. Cole is a man of the people, he doesn't consider himself a role model. Throughout his career, the North Carolina rhymer has urged his fans to never try to completely change themselves to meet a certain standard. True fans know he's been rapping about this for quite some time. From "Nobody's Perfect" to "Crooked Smile" to "Love Yourz," the Dreamville Records leader thinks it's wiser to become your own role model than looking to someone else.
Live a Hot Girl Lifestyle
Since she entered hip-hop and earned her respect as a talented MC, Megan Thee Stallion has been unapologetically embracing her sexuality and pushing women empowerment in her music. "Hot Girl Summer," "Savage" and "Body" include plenty of confident, caption-worthy lines to keep Instagram and Twitter posts coming for weeks. The former 2019 XXL Freshman has schooled everyone on how to live a hot girl lifestyle.
While it may seem that only women can get in on the action, overall, Meg's encouraging people to be themselves. "Being a Hot Girl is about being unapologetically YOU, having fun, being confident, living YOUR truth, being the life of the party etc..," she wrote in a July of 2019 tweet. In just three years, the three-time Grammy winner is quickly reaching her ultimate goal. "Five to 10 years from now, I'm gon' be an icon," Megan told XXL in 2019. She's well on her way while urging others to do the same.
Get Lost in Your Own Space
Lil Uzi Vert isn't always of this world, and that's a good thing. The Philadelphia rapper's trendsetting fashion sense and avant-garde looks—not just anyone can get a multimillion-dollar diamond implanted on their face—makes him very unique in hip-hop. While he tends to share his drip in photos on Instagram, the rhymer can be elusive at times. However, he's very interactive with his fans on social media. This is where parts of Uzi's personality shines outside of the music.
He's typically in his own world. While some people tend to use phrases like "you're on your own planet" as an insult, this creative artist prides himself on getting lost in his own space. He's living by his own rules. After all, he does call himself Baby Pluto and made his own far-out-world with his 2019 album, Eternal Atake. Live life like Uzi and get lost in your own space.
Thrive as a Certified Lover Boy
Drake showed us that even rappers can wear their heart on their sleeves and still be respected in the streets. The title of his next album is called Certified Lover Boy, which is fitting considering Drake has publicly sought after Rihanna for years. He's also had other moments of lust and love that have grabbed headlines at various times during his career. The oft-delayed project will likely include Drizzy in his melodic rap and R&B bag, exploring themes of love and relationships once again. If there's one thing the Toronto rapper has taught us, it's that you can thrive as a certified lover boy.
Stay True to Yourself
Cardi B's unapologetic personality and passion for being outspoken helped her move from a social media influencer to a Grammy Award-winning rap star. Bardi's success has certainly paid off: she is the first female rapper to officially have a certified diamond single for "Bodak Yellow." She's done all of this while keeping that same Bronx energy she's had from the beginning. Stay true to yourself and the rest will follow.
Be a Business, Man
Jay-Z's entire musical career is a major life lesson. Hov went from growing up in the hood to becoming a whole billionaire. His blueprint was strategic: to be the best rapper in the game and raise "the status quo up" while "overcharging niggas for what they did to the Cold Crush." From his partnerships with the NFL to having his own line of marijuana to still going strong with his streaming service TIDAL, Jay has proved that diversifying a portfolio is important. Like he rapped on Kanye West's "Diamonds From Sierra Leone (Remix)," "I'm not a businessman; I'm a business, man."
Fight for What's Right
Ms. Lauryn Hill is a soul survivor. Following the release of her solo hip-hop masterpiece, The Miseducation of Lauryn Hill, in 1998, L. Boogie stepped away from the microphone to focus on her family after she felt the music industry did her dirty. "The idea of artist as public property, I also always had a problem with that," Hill said during a Rolling Stone interview earlier this year. "I agreed to share my art, I'm not agreeing necessarily to share myself. The entitlement that people often feel, like they somehow own you, or own a piece of you, can be incredibly dangerous."
In 2010, she came back on her own terms, performing special concerts for her die-hard fans. Ms. Hill fights for what's right when it comes to her music and her artistry. That's a solid life lesson to abide by.
Set the Blueprint
Lil' Kim laid the foundation for many female rappers after her to embrace their own sexuality and not be intimidated by their male counterparts. While the Queen Bee wasn't the first woman in hip-hop history to be open about sex, she is the most recognized as an icon of the 1990s and beyond. Lil' Kim has schooled the masses on being a queen of the throne. Like she's done, set the blueprint and watch the rest try to imitate it.
Become Both the Player and the Boss
DaBaby has proven to be a rock star in his career. Aside from being a rapper with witty rhymes and a charismatic persona, the North Carolina rhymer has shown his fans that you can become both the player and the boss. DaBaby is an artist signed to South Coast Music Group/Interscope Records, and a CEO of his own label, Billion Dollar Baby Entertainment. Additionally, he has a talented roster of artists that are very eager to put their own stamp in the rap game as well. As long as business is handled on all ends, play the game from different areas as you see fit.
Go at Your Own Pace
Nas, 47, has been in the rap game for nearly 30 years at this point. While friendly competition and some serious beef have all been a part of his career, the man moves to the beat of his own bars. In August of 2020, the Queensbridge, N.Y. native released his 13th solo project, King's Disease, to critical acclaim. Proof that age doesn't quell creativity.
This past March at the 2021 Grammy Awards, that Nas LP won the Grammy Award for Best Rap Album, marking the very first time the rapper won the coveted gramophone. Three years shy of 50, Nas finally gets the recognition he so rightfully deserves. Go at your own pace like Nas because the accolades will come no matter the time.
Stay Four Pockets Full
When it comes to being an artist, Lil Baby sees the bigger picture. The Atlanta rapper doesn't solely rely on rap money to make a living; he diversifies his income. Among Lil Baby's many business ventures are a dog kennel business in the ATL area, a lawn and gardening service and a towing company. As far as music, the "On Me" rapper is the CEO of his own record label, 4 Pockets Full. Rappers 42 Dugg and Rylo Rodriguez are his flagship artists at the moment. Lil Baby proves that staying four pockets full is a wise game plan.
Create at All Costs
Love him or hate him, Kanye West stays focused on his goals no matter the costs. Whether it's spending over $3 million of his own money on his failed presidential run in 2020 or building his own companies and celestial domes, 'Ye will go after his dreams—no matter how far-reaching they may be—until there is an outcome. Create at all costs to get the desired result.
Do It for the 'Gram in Moderation
Freddie Gibbs has a strong connection with his fans on social media. The Grammy-nominated rapper often posts wild imagery and memes in his Instagram Stories, which keeps his followers entertained. But Gangsta Gibbs was kicked off Instagram last December due to violating the platform's Community Guidelines. But in March of this year, the Alfredo rhymer had his IG page reinstated and he has since been mindful of what he posts on the 'Gram. Recently, Freddie revealed that he uses fake Instagram accounts to make fun of his fellow rappers. A surprising revelation. But the ultimate lesson out of this is don't always do It for the 'Gram, but if you do, do so in moderation.
Be a Fly God at All Times
Westside Gunn is one of the most respected rappers in the game for his lyrical abilities and the Griselda movement he helped grow with his team of Conway The Machine and Benny The Butcher. The Buffalo, N.Y. native frequently goes by his nickname Flygod, which is in reference to his dripped-out fashion sense. Not only is Gunn showing off his flashy style—peep his oversized goose-filled puffer coats and diamond-encrusted necklaces in the "Dr. Birds" video—but he's also encouraging people to stay fly in all aspects of life—business and personal.