Hip-Hop is hitting the 50 year mark this year. It was in 1973 that DJ Kool Herc manned the turntables at that infamous "Back To School" jam and set in motion a cultural revolution. ROCK THE BELLS is taking a look at that revolution all year long, starting with a look at the songs that defined the years since rap records kicked down the door in 1979.
The 1980s
The 1980s are more than just a foundational period in Hip-Hop's history, they're the decade when Hip-Hop moved from park jams to recording studio; when it leapt out of the Bronx to become a worldwide phenomenon. The decade begins with the disco-flavored grooves of Sugar Hill Records and Enjoy Records, with crews like Grandmaster Flash & The Furious Five and the Treacherous Three breaking ground. By the mid-80s, Run-D.M.C. led rap music onto the charts, with superstars like LL COOL J and the Beastie Boys following suit. And by the end of the decade, rappers like Chuck D and KRS-One had become the voice of a generation. And these are the songs that soundtracked it all. —Stereo Williams
1979
Sugar Hill Gang "Rappers Delight"
The Sugar Hill Gang's 'Rapper's Delight" served as the "Big Bang" for the rap industry. R&B artists and DJ's had talked in rhyme on records before, but they weren't doing it over breaks and they weren't MC's. The Gang's Wonder Mike And Master Gee were members of Englewood New Jersey's Sound On Sound and Phase II crews respectively. Big Bank Hank a former bouncer and pizza maker borrowed rhymes from Grandmaster Caz of the Cold Crush Brothers as well as DJ Hollywood and Eddie Cheeba. Although The Fatback Band released "King Tim III (Personality Jock)" a few months before, "King Tim III" was a funk song, by a funk band that featured King Tim (who was an actual MC) sharing his rapped vocals with The Fatback Band's sung vocals. "Rapper's Delight" was the first record released on Sylvia Robinson's Sugar Hill Records, the label which would monopolize recorded rap until the mid-1980s. Not only did "Rapper's Delight" introduce the artform of rap to those outside of New York's boroughs, it was the first commercially successful rap record, selling 20,000 copies a day at one point. The combination of this new talking style of music with the back drop of the summer's biggest song "Good Times" by Chic helped "Rapper's Delight" outshine the other two dozen independent rap records released in 1979.—Jay Quan
1980
Kurtis Blow "The Breaks"
Kurtis Blow is revered as rap music's first solo superstar. He is the first rap artist to sign to a major label, (Mercury/Polygram), and he released Hip-Hop's first holiday hit, 1979's "Christmas Rappin.'" Blow's follow up single "The Breaks" was a chart-topping urban anthem in the summer of 1980, receiving prime time radio airplay as well as blasting out of every car, portable radio and house party that year. "The Breaks" led to Kurtis becoming the opening act for such iconic artists as Lionel Richie and The Commodores and the legendary Bob Marley. Blow also performed the classic on Soul Train the Saturday morning music program that was considered the pinnacle for urban artists. Blow was the first rap artist to make an appearance of the program. "The Breaks" peaked at #87 on the Billboard Hot 100.—Jay Quan
1981
Grandmaster Flash "The Adventures of Grandmaster Flash on The Wheels of Steel"
In 1981, Sugar Hill Records' domination of rap music was still very much in effect and "The Adventures of Grandmaster Flash on The Wheels of Steel" was the most unique and innovative record of 1981. It marked the first time that we actually heard "scratch mixing" on a record. Flash's theories like phasing, the quick mix theory and the clock theories are all demonstrated on this single. Sugar Hill Records founder and CEO Sylvia Robinson was instrumental in greenlighting the project, Grandmaster Flash told The Foundation. "Sylvia encouraged it," he said. "I approached her many times about it. I would just drop it in her ear: 'Sylvia can I make a cut record?' After a while we were coming off tour and she flew me and Melle Mel in and said 'Let's do this record.'" "Adventures on The Wheels of Steel" was the first time that most people outside of New York's boroughs heard scratching, creating a generation of aspiring DJs and further turning the turntable into an instrument. —Jay Quan
1982
Grandmaster Flash & The Furious 5 "The Message"
"The Message " is essentially a seven minute dissertation on Reaganomics and its effects on urban America. Written by Sugar Hill house band percussionist Ed Fletcher aka Duke Bootee as a song for himself, "The Message" is regarded as the first rap song to inject social commentary into the relatively new genre. "'The Message' is a Reagan record," said Newseek's Greil Marcus in 1982. "It has to do with the perception that all pretenses toward equity have been abandoned." Grandmaster Melle Mel's "A child is born" verse from 1979's "Superrappin'" was recycled and added to the end of "The Message" and served as what Sylvia Robinson called "the icing on the cake." The song which only featured Fletcher and Melle Mel would eventually lead to the breakup of the most decorated first generation rap group. "I don't think that 'The Message' broke the group up," Grandmaster Melle Mel told The Foundation."It planted the seed that built a certain amount of animosity that destroyed our working relationship and the creative continuity that we had."—Jay Quan
1983
Run-DMC "Sucker MC's"
"Sucker MC's" was the world's introduction to Run-D.M.C. It was the shot heard 'round the world and it single handedly represented the end of one era and the beginning of another. The importance of the song which was paired with the more popular and commercially accessible "It's Like That", cannot be overstated. "It was time for something new," Grandmaster Caz of The Cold Crush Brothers told The Foundation. "The genre would have likely died if not for Run-D.M.C.," he added. Not only did "Sucker MC's" present a new cadence courtesy of both Run and DMC, it was the first time outside of Spoonie G's 1980 hit "Love Rap" that a rap record was released containing only drums. The songs producer Larry Smith spent a considerable amount of time at legendary Hip-Hop club The Disco Fever where he witnessed the genre's best and brightest. He was a musician who understood how Hip-Hop DJ's operated, and when he created the drum track for "Sucker MC's" he was actually emulating the drum pattern from his own band Orange Krush's hit record "Action". He was attempting to emulate what he saw and heard in the parks and Hip-Hop clubs. "Sucker MC's" represents one of Hip-Hop's first paradigm shifts. —Jay Quan
1984
Tla Rock And DJ Jazzy Jay "It's Yours" (tie)
"It's Yours" was the record that made every MC want to buy a thesaurus to employ better vocabulary and wordplay. "Commentating, illustrating/ description giving /adjective expert/analyzing surmising/musical myth seeking/people of the universe this is yours" the song boldly starts. T la Rock's brother and the songs co writer Special K of The Treacherous Three was always an abstract writer and it was evident to a select few that "It's Yours" had his fingerprints on it. In the trailer for a new Special K documentary K responds to those who said that "It's Yours" didn't always rhyme. "It doesn't have to rhyme, it's poetry", he retorts. It's Yours was a game changer musically as well. Jazzy Jay's literal wall of scratching was a perfect fit for Rick Rubin's 808 heavy production. "The studio engineers kept warning me that the bass was approaching the level where the record wouldn't be playable" Rick told Rolling Stone.—Jay Quan
Whodini "Friends" (tie)
"Friends" was Whodini's breakout hit, although they released a self-titled album in 1983 that contained production from Thomas Dolby and The Thompson Twins. "Friends" was the first single from Escape, which was their first album produced by the late Larry Smith. Released in a period where rap producers embraced the "stripped down" sound, there was a heavy emphasis on drum machines and scratching, "Friends" contained synthesizers, pianos and bass. This full sound combined with the subject matter, (a lesson of friendship), would establish Whodini as a more sophisticated act than their contemporaries. Group member Jalil wrote the song, and he described to The Foundation how "Friends" came about. "I was humming 'Friends' and I told Larry how I wanted the drums and bassline to go," he explained. "It was very primitive and everyone laughed at first. Larry said that he would need to use two different kick drums to reproduce what I was hearing in my head. I told him to do whatever it takes, and he used 2 two different kick drums." "Friends" has been sampled and remade several times over the years—a testament to the enduring quality of the original work. —Jay Quan
1985
LL COOL J "Rock The Bells" (tie)
1985 was a transitional period for rap records. It was the last portion of the drum machine era and the eve of the sampling era which is often referred to as rap's "Golden Era." Run-D.M.C.'s sophomore album King of Rock was released in '85, along with Doug E. Fresh & The Get Fresh Crew's gargantuan single "The Show"/"La Di Da Di." Reverberations were still being felt from The Fat Boys debut album, which dropped the previous year. But 1985 also marked the debut album from LL COOL J, who delivered a performance in the motion picture Krush Groove which was the most talked about part of the film. Anticipation was high for Radio, which didn't disappoint with its high energy single "Rock The Bells." The song, which would have sampled Bob James' iconic "Take Me to Mardi Gras" breakbeat, instead sampled Trouble Funk's "4th Gear" and features one of Uncle L's most dynamic vocal performances. "Rock The Bells" has become an instrument for DJ's to create scratch routines to, a signature song for LL and the name of an entertainment empire which includes a classic Hip-Hop radio station, website and clothing line. There is even a Rock the Bells Hip-Hop cruise happening in 2023.—Jay Quan
Doug E. Fresh & The Get Fresh Crew "The Show" (tie)
It was impossible to pay a visit to any urban neighborhood in 1985 and not hear "The Show" or its b-side "La Di Da Di" blasting from a car or portable radio. The song was put together like a sonic "greatest show on earth," and featured the man who had been calling himself "The Original Human Beatbox" on records for the better part of a year, and who we caught a glimpse of performing his human percussion on Beat Street with the Treacherous 3. The incredible tandem scratching of DJs Chill Will and Barry B combined with the British accented comical delivery of MC Ricky D made for the summer's most popular song landing the quartet on Soul Train in America and its UK equivalent Top of The Pops. Although Rick and Doug would separate after "The Show"/"La Di Da Di," each had an incredible solo career, and they have reunited on recordings and live performances throughout the years.—Jay Quan
1986
Eric B & Rakim "Eric B Is President"
"The God MC," with the monotone voice and otherworldly wordplay, planted his flag in '86 and singlehandedly declared a new era. Rakim proudly stated that there were "No tricks in '86/It's time to build" on his debut single "Eric B. Is President." The song became an instant hit and the "whop" (popular 1980s dance) anthem of the year. Musically based on Fonda Rae's "Over Like a Fat Rat," "Eric B Is President" was produced by Marley Marl, mixed by MC Shan and released on Zakia records, the same label that released Roxanne, Roxanne answer records only a year before. Lyrically Rakim introduced a new cadence that is still in use today, and one of the most copied in the genre. Eric B Is President represents yet another paradigm shift in rap music and the arrival of one of the most revered, influential and celebrated MC's in the game.—Jay Quan
1987
Public Enemy "Rebel Without A Pause"
Public Enemy's "Rebel Without A Pause" was created and released as a single between their debut album Yo! Bumrush The Show and their iconic and game-changing sophomore album It Takes A Nation of Millions To Hold Us Back. Public Enemy frontman Chuck D explained to ROCK THE BELLS that they were displeased with their debut album, and that "Rebel Without A Pause" was one of their most important recordings. "'Rebel…' was our first hit record", he said. "The energy, response and momentum from 'Rebel Without A Pause' transferred directly into It Takes A Nation of Millions. We went into making that record like it was a military mission", he added. "Me and Eric Sadler (a member of the Bomb Squad production team) heard 'I Know You Got Soul' by Eric B. & Rakim and we said that it was inconceivable that a song could be that good." The combination of the Fred Wesley horn loop and Clyde Stubblefield's iconic drum pattern gave Chuck a perfect soundbed to show his ass lyrically. "Hard/my callin' card/supported and ordered/a follower of Chesimard". "Rebel Without A Pause" remains of of Hip-Hop's most energetic singles.—Jay Quan
1988
Marley Marl featuring Masta Ace, Craig G, Kool G. Rap And Big Daddy Kane "The Symphony"
1988 is widely recognized as rap's best year for classic albums. Across coastal, gender and stylistic lines 1988 was an incredibly prolific year for full length rap albums. There are so many possible choices for the best song of 1988, there are literally dozens. We are choosing "The Symphony," not only because it's a dope song, but because of what it represents for '88 and beyond. It introduced one of Hip-Hop's most consistent MCs in Masta Ace. It reestablished Craig G., a Juice Crew mainstay. It solidified Kool G. Rap as one of the game's best, it gave us one more reason to respect Kane's pen and it crowned Marley Marl the best producer of that period. "The Symphony," although not the first posse cut in Hip-Hop, it is definitely the template by which modern day posse cuts are measured. Each MC featured on "The Symphony" would have a career defining album in two years or less. This was an extremely difficult one, but The Juice Crew takes home the crown.—Jay Quan
1989
The D.O.C. "It's Funky Enough"
The Texas-born, California-produced D.O.C. made his debut under that name in '89 and broke through coastal barriers along with his NWA cohorts and producer Dr. Dre. He was by no means a stranger to the industry having been a member of The Fila Fresh Crew and a writer for Eazy E, but it was "Funky Enough" that established him as a force to reckon with. Over a Foster Sylvers inspired track D.O.C. spits fire with a Jamaican accent and immediately grabs Hip-Hop's attention. His NWA assisted video came just in time for the newly developed Yo! MTV Rap's and introduces him to an even wider audience. "Funky Enough" was the lead single from his critically acclaimed debut album No One Can Do It Better which is widely revered as one of Hip-Hop's best. "Funky Enough" and No One Can Do It Better are still in conversations three decades later with fans holding on to hope that there will be another D.O.C. release.—Jay Quan
The 1990s
The decade that saw Hip-Hop fully explode onto mainstream popular culture; the Nineties are arguably Hip-Hop's most celebrated decade. It's understandable; the genre's audience grew tremendously in the wake of major successes from artists like Dr. Dre and Wu-Tang Clan. 2Pac and The Notorious B.I.G. became megastars and tragic martyrs at a time when rap music was bigger than ever. And record labels like Death Row Records, Bad Boy Entertainment, So So Def Recordings, No Limit Records and the perennial Def Jam pushed the industry to the forefront of music. But the songs are what defined the times, and these are the tracks that epitomized rap of the Clinton era.—Stereo Williams
1990
LL COOL J "Mama Said Knock You Out"
Hip-Hop heads know the lore: after his third album Walking With A Panther was criticized for being shallow at a time when the political rap of Public Enemy and the gangstadom of N.W.A. were pushing the genre in more topical directions, LL reloaded with the legendary Marley Marl. His fourth album is a retort to his critics and further affirmation of his stature, and the title track became the opening salvo for what would be an extremely successful 1990s run for Def Jam's biggest star. Those first few bars became burned into the world's collective consciousness, and Battlecat's production gave James Todd Smith the sonic backdrop to explode. —Stereo Williams
1991
A Tribe Called Quest "Check The Rhime"
The easy back-and-forth between Q-Tip and Phife. That winning Donald Byrd sample. The hit single from The Low End Theory is quintessentially Tribe. A Tribe Called Quest had already established themselves as the newest upstarts within the Native Tongues collective on their stellar debut, People's Instinctive Travels and The Paths of Rhythm; but when the now-trio (founding member Jarobi departed during recording sessions in 1991), released their sophomore project, ATCQ had evolved into a more fully-formed and assured group. And with "Check The Rhime," they created the perfect showcase for the cool chemistry between their distinct lead emcees. —Stereo Williams
1992
Dr. Dre "Nuthin' But a 'G' Thang"
There are few songs in the history of any genre as epochal as the first single from Dr. Dre's The Chronic. G-Funk was already a thing, but this classic track set off a sound and a movement that recalibrated rap's mainstream. Snoop Doggy Dogg really becomes a star here; having debuted on "Deep Cover" with Dre earlier. The D.O.C.'s songwriting savvy, Snoop's laid-back charisma, and that slow-rolling production–it all makes for an engrossing listen. Over a stellar sample of "I Wan' a Do Somethin' Freaky To You" by Leon Haywood, Snoop and Dre set it off for Death Row Records and kickstart a new period of West Coast dominance.—Stereo Williams
1993
Souls Of Mischief "'93 Til Infinity"
Were there bigger hits in 1993? Absolutely. But try to find a song that seems to define the year itself as well as this timeless tune from lyrical quartet out of the Bay. Opio, Tajai, A-Plus and Phesto would become legends of the Heiroglyphics crew, but back then, they were the new kids with a distinctive flow and armed with one of the best singles of the decade. This would be the second track released from their debut album of the same name, and it's whimsical production and verbally acrobatic bars made it an instant fave amongst rap fans, and set a standard for the "alternative" rap scene forming on the West Coast.—Stereo Williams
1994
Wu-Tang Clan "C.R.E.A.M."
The Wu had broken through majorly with "Protect Ya Neck" and their debut album, Enter The Wu-Tang: 36 Chambers, back in 1993. But it wasn't until "C.R.E.A.M." hit radio and shows like Rap City and Yo! MTV Raps that the nine-man crew out of Staten Island really bum-rushed the mainstream. RZA's ghostly production forms the perfect backdrop for Raekwon The Chef and Inspectah Deck to kick bars about the grim realities of hustling and street life, delivering a quintessential track from the Clan and one of the 1990s most indelible songs. On an album with no shortage of stellar tracks, it managed to stand out. It also expanded the Wu's audience tremendously.—Stereo Williams
1995
2Pac "So Many Tears"
Released to radio as he was serving time for sexual assault at Clinton Correctional Facility, it was the follow-up to the heartfelt "Dear Mama" and both songs served as benchmarks for the introspective, thoughtful persona Pac showcased on his third album Me Against The World. Produced by his longtime friend and collaborator Shock G, "…Tears" is the kind of pained introspection so many rappers have aimed for in their music without landing as effectively. Pac sounds like a man defeated by his decisions, consumed by his pain, and hoping for redemption. While not the Top Ten hit that "…Mama" became, it remains a fan favorite and one of the best singles of 2Pac's career. And a definitive track for pre-Death Row 2Pac.—Stereo Williams
1996
The Fugees "Ready Or Not"
Wyclef Jean, Lauryn Hill and Pras were riding high when they released this excellent single from their blockbuster sophomore album The Score. Repurposing the classic track from The Delfonics, the trio out of Jersey delivered a song that sounds both paranoid and empowered, aggressive and laid-back. Lauryn's distinct vocals carry the hook, as her vocal performance was originally supposed to only be a reference track. And Hill also provides one of the most memorable rap verses of her career, on a song that came to epitomize the potent alchemy of all three members. The ultra expensive music video was also in constant MTV rotation. —Stereo Williams
1997
The Notorious B.I.G. "Mo' Money, Mo' Problems"
1997 was the year that Hip-Hop's much-discussed "Shiny Suit" Era took hold, and this smash posthumous single from The Notorious B.I.G. seemed to embody so much of that era. B.I.G. was tragically murdered just before the release of his sophomore album Life After Death, so the music video for "Mo Money…" is severely missing his presence, but his Bad Boy cohorts Puffy and Ma$e go centerstage in an era-defining visual. The song itself is pure Bad Boy ear candy, and proof positive that, even as a hardcore street emcee, one of Biggie's greatest strengths was his ability to deliver catchy earworms with ease. —Stereo Williams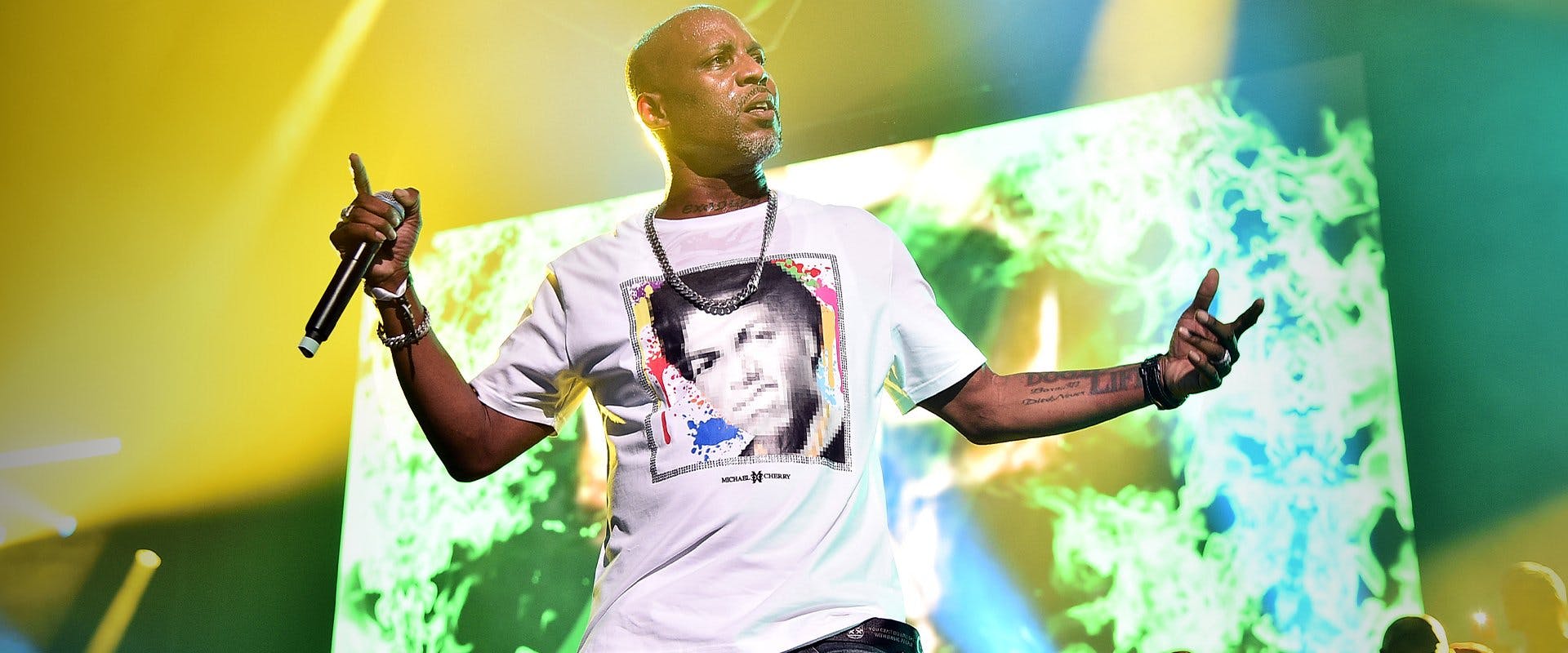 The 2010s
1998
DMX "Get At Me Dog"
If "Mo' Money, Mo' Problems" more or less announced the jigginess of 1997, then this breakout single from Dark Man X was the "Shiny Suit Era" death knell. Over hard-hitting production from Dame Grease, the Yonkers representer makes it clear that he isn't interested in flashing his Rolex in the sky. X was aggression personified, and on "…Dog" his persona is set in stone. Over a delivery that sounds like it's barked as much as rapped, X goes off; announcing that he's coming for anyone at the top of the game. The Shiny Suit Era can be overly-criticized, but there's no denying that DMX gave fans a welcome respite from all of the candy-colored hijinks. —Stereo Williams
1999
Pharoahe Monch "Simon Says"
The lead single from Monch's solo debut Internal Affairs, the famed lyrical virtuoso swung for the fences with this hit single. Sampling the theme from 1964's Mothra vs. Godzilla, the song would be a showcase for Monch's undeniable skills on the mic, while also giving the former Organized Konfusion rapper a major commercial smash. "Simon Says" would show up virtually everywhere, from commercials to soundtracks, even though a sampling lawsuit would hurt distribution of …Affairs. Nonetheless, it stands as an anthemic example of late 1990s East Coast Hip-Hop, capturing the towering bombast of the Y2K era, while also serving as an unofficial sendoff for the 1990s era that had seen unapologetic NYC rap at its apex.
The 2000s
Coming out of the 90s, which many people consider to be part of HIp-Hop's "Golden Age," it's easy to dismiss the talent and quality of the early aughts. But that would be a mistake. Not only did the 2000s see HIp-Hop's GOATS still going strong and releasing some of the best music of their careers (see: Scarface, Jay-Z, OutKast, Common, and others), an entirely new crop of talent emerged — from Little Brother and Jay Electronica to 50 Cent, Rick Ross and Kanye West. Here's a list of some of the best songs from 2000-2010. —Jacinta Howard
2000
"Stan" Eminem
Told from the perspective of a dangerously obsessed fan, when Eminem dropped "Stan" from his career-defining second album, The Marshall Mathers LP, there wasn't really anything else like it. The song is disturbing and vulnerable at once, a careful balance Eminem strikes throughout the song, with Dido's somber chorus further adding depth. It's still one of the songs you can point to when describing Em's creative genius. —Jacinta Howard
2001
"Get Ur Freak On" Missy Elliott

Missy's innovative genius is still being dissected, in part because of what she accomplished with her 2001 hit, "Get Ur Freak On" from her album Miss E… So Addictive. The song wasn't only successful on the charts but showcased the wide-ranging sounds and approaches Hip-Hop encompasses. —Jacinta Howard
2002
"Guess Who's Back" Scarface featuring Jay-Z and Beanie Sigel
By the time 2002 rolled around, Scarface was already a bonafide rap legend. That The Fix is a widely considered classic only speaks to his icon status. "Guess Who's Back" is both a quintessential Face song and a basically perfect Hip-Hop track. Featuring blazing production from early Kanye West and two standout verses from top-tier lyricists, Jay-Z and Beanie Sigel, it's an easy choice for the best rap song of 2002. —Jacinta Howard
2003
"In Da Club" 50 Cent
"In Da Club" isn't just 50 Cent's biggest hit, it's one of the best club songs in Hip-Hop history. 50's almost lazy flow, perfectly compliments the production — Dr. Dre's aggressive horns and hard bass line, with stark drums from the legendary DJ Quik. Couple that with one of the most repeated refrains in rap history: "Got shawty, it's your birthday" – and you have the perfect storm for one of the greatest rap songs of all time.—Jacinta Howard
2004
"Still Tippin'" Mike Jones
The mid-aughts belonged to Houston, Texas and one of the most definitive songs of the era came courtesy of Mike Jones via "Still Tippin'" featuring Paul Wall and Slim Thug, whose popular previous Swisha House vocal was looped for the infectious hook.—Jacinta Howard
2005
"The Corner" Common featuring The Last Poets
Common returned in 2005 with his album Be, reconnecting with his core fanbase following the polarizing reception of his eclectic outing, 2002's Electric Circus. Teaming with Kanye West, the album is responsible for some of the Chicago MC's most memorable material, including this gem.—Jacinta Howard
2006
"Daydreamin'" Lupe Fiasco featuring Jill Scott
Lupe Fiasco's "Daydreamin'" was cinematic, therapeutic, and futuristic, all rolled into one. Featuring a brilliant vocal display from Jill Scott, "Daydreamin'" rightfully earned Lupe his first Grammy. —Jacinta Howard
2007
"Int'l Players Anthem (I Choose You)" UGK featuring OutKast
Honestly, 2007 should be dubbed "The Year of Incredible Andre 3000 Features." Whatever got into him that year produced some of his most memorable 16s ever, from his playful showing on John Legend's "Green Light" to his incredible verse on Devin the Dude's "What A Job" to his surprise pop-up on DJ Unk's "Walk It Out" and Lloyd's "I Want You." But his guest spot that got the most love that year came when UGK and OutKast finally linked and created "Int'l Players Anthem" where 3K delivered another other-worldly verse that remains one of his most quotable over stellar Pimp C production. While Dre's verse is most often repeated, Big, Bun, and Pimp all showcase exactly why they're legends. —Jacinta Howard
2008
"Royal Flush" Big Boi featuring Andre 3000 and Raekwon
When Big Boi released what was supposed to be the first single from his official solo debut Sir Luscious Leftfoot, it's doubtful he knew it'd become the base for one of the greatest verses of Andre 3000's career. The Grammy-nominated song is a reunion between 'Kast and Raekwon who first connected on the forever jam "Skew It On the Bar-B" from 1998's Aquemini. Ten years later, the chemistry was still there between the three, though the show really belonged to 3K who was able to let loose on the song with the longest verse where his delivery was immersive, insightful, and sometimes chilling. The song didn't wind up on Big's debut but it does stand as the dopest release of '08.—Jacinta Howard
2009
Jay Electronica "Exhibit C"
Jay Electronica's "Exhibit C" is one of those timeless Hip-hop songs that can be studied, dissected, and studied some more. Over a perfect Just Blaze beat, Jay shot up the ranks of Hip-Hop's upper echelon of lyricists, with a showing that's still murmured about over 10 years later. —Jacinta Howard
Hip-Hop of the 2010s was unburdened by much of the stigmas the genre had to endure in it's earlier decades: it was now the biggest genre in music. Commercially and artistically, Hip-Hop was delving into all kinds of new spaces; as trap music permeated every facet of pop, and artists like Kendrick Lamar and J. Cole became standard-bearers for contemporary artistry in mainstream music. Drake dominated the pop charts, and Childish Gambino became a critical darling; as veterans like Jay-Z debunked the idea that rap is still only a "young man's game." Four decades of greatness, distilled.
2010
Eminem feat. Rihanna "Love the Way You Lie."
"Love the Way You Lie" is a pairing of two artists at the heights of their power. While it can seem a bit melodramatic and pop upon the first listen, the record has a real sense of "believability" to it — aided by Rihanna's commitment on the hook. In many ways, this song feels like an evolution for Eminem who seemed misguided by humor for several years before returning to a song more indicative of "The Way I Am" off the Marshall Mathers LP.—Alec Banks
2011
Watch The Throne "N*ggas in Paris"
The pairing of JAY-Z and Kanye West seems like a distant memory given the trajectories of their two careers at the moment. Like with Rihanna and Eminem, Watch The Throne was a dream pairing in every way. While there were a number of stand out moments from that record, "N*ggas in Paris" seems to really embody the austentatious nature of the project.—Alec Banks
2012
Kendrick Lamar "Bitch Don't Kill My Vibe"
Hip-Hop pundits to scholars have unpacked the brilliance of good kid m.A.A.d city — and rightfully so. Although the second project in Kendrick Lamar's discography, it served as his national coming out party. The album eschews any flashy radio singles for more introspective tales of life in Compton. "Bitch Don't Kill My Vibe" contains all the sonic and lyrical qualities that have made him one of the most consistent presences in Hip-Hop for the last decade: namely an ability to be aggressively honest in a much more nuanced way then say, Chuck D, who made critiques about society in a much more up front manner.—Alec Banks
2013
J. Cole "Power Trip"
Similar to Kendrick Lamar, Sideline Story was J. Cole's coming out party. While his project had many notable songs — including the Missy Elliott-aided "Nobody's Perfect" — it was the Miguel-assisted "Power Trip" that holds up ten years later. The drumless intro evokes a spirit of Common's "Resurrection" before going into a staccato-like flow that was unlike anything on the radio at the time.—Alec Banks
2014
Run the Jewels "Blockbuster Night Pt. 1"
Run The Jewels deserve to be immortalized in Hip-Hop history — not just because of their work independently on projects from Def Jux to the Dungeon Family — but also because their teamwork and output seem to be generally piloted by the desire to create great music. "Blockbuster Night Pt. 1" — with less reach than "Close Your Eyes (And Count To Fuck) — has all the hallmarks of the cinematic music they create together. It's like if Public Enemy, Deltron 3030, and razor wire were thrown into a blender and made into a puree.—Alec Banks
2015
Kendrick Lamar "Alright"
Although he didn't know it at the time, Kendrick "Lamar's" "Alright" would become something of a rallying cry during the civil unrest in the country in 2020. It may not sound like "We Shall Overcome," but it achieves a similar sense of optimism at a time when the country felt like it had ruptured at the seams.—Alec Banks
2016
A Tribe Called Quest "We the People"
The tragic passing of Phife Dawg makes the inclusion of "We The People" that much sweeter. While diehard ATCQ fans were cautiously optimistic about their final project together — given the bad feelings they learned about that were shared between him and Q-Tip on The Love Movement — the album really works. "We the People" remains the stand out song because it has that hallmark chemistry between the Linden Boulevard royalty.—Alec Banks
2017
JAY-Z "The Story of OJ"
4:44 was a triumph for JAY-Z after The Blueprint 3 and Magna Carta…Holy Grail seemed more motivated by doing good business, as opposed to releasing good music. Producer, No. I.D., certainly deserves a lot of credit for getting Hov to look back towards a life that others could relate to, rather than remaining in Watch the Throne mode when he illustrated he was in the top .000001 percent of the income bracket.—Alec Banks
2018
Childish Gambino "This is America"
While all of Pusha T's songs on Daytona certainly warrant consideration, "This is America" cut through all of pop culture — specifically because of the music video — which found Childish Gambino doing his best A Clockwork Orange impression.—Alec Banks
2019
Rapsody "Ibithaj"
You always run the risk of running afoul with the Hip-Hop police when you take a recognizable sample and flip it. In this case, Rapsody using GZA/RZA's "Liquid Swords" on "Ibithaj."However, Rapsody manages to make this songs wholly hers — even with the GZA feature on it.—Alec Banks
2020
Freddie Gibbs "1985"
Freddie Gibbs' career is the perfect representation of how it's not about how fast you start, but rather, how efficiently you run the race. His Grammy-nominated project with the Alchemist, Alfredo, features a slew of standout songs, but "1985," rises above all of them thanks to a psychedelic palette that somehow works with Gibbs' eclectic references like range from Joe Exotic to Assata Shakur.—Alec Banks
2021
Nas "Death Row East"
A good Hip-Hop record is not only a representation of modernity, but also a reflection of just how far the culture has come since the first record was cut back in 1979. Nas' "Death Row East" from Kings Disease II is a masterclass in exploring the simmering beef between the East and West Coast in the '90s. It's meta in a lot of ways, given Nas' entrance into Hip-Hop as a vivid storyteller on Illmatic, to something that is more exploratory of the culture as a whole.—Alec Banks
2022
Black Thought and Danger Mouse "No Gold Teeth"
It's unfair to label "Black Thought" underrated given everything he's accomplished as both a member of The Roots and as a solo artist. But it's perhaps that persistent feeling in the community that he doesn't get his just do which propels the Philly-spitter to consistently get better year over year. Five years after his iconic Funkmaster Flex freestyle, his project with Danger Mouse solidifies his upward trend.—Alec Banks